Experience the Future of guitar Sound with Neural Simulations
Experience the Future of guitar Sound with Neural Simulations
Experience the Future of guitar Sound with Neural Simulations
The compact and powerful standalone guitar effects ecosystem
to express your creativity at home, in the studio and on stage
---
Highy crafted colelctions of boards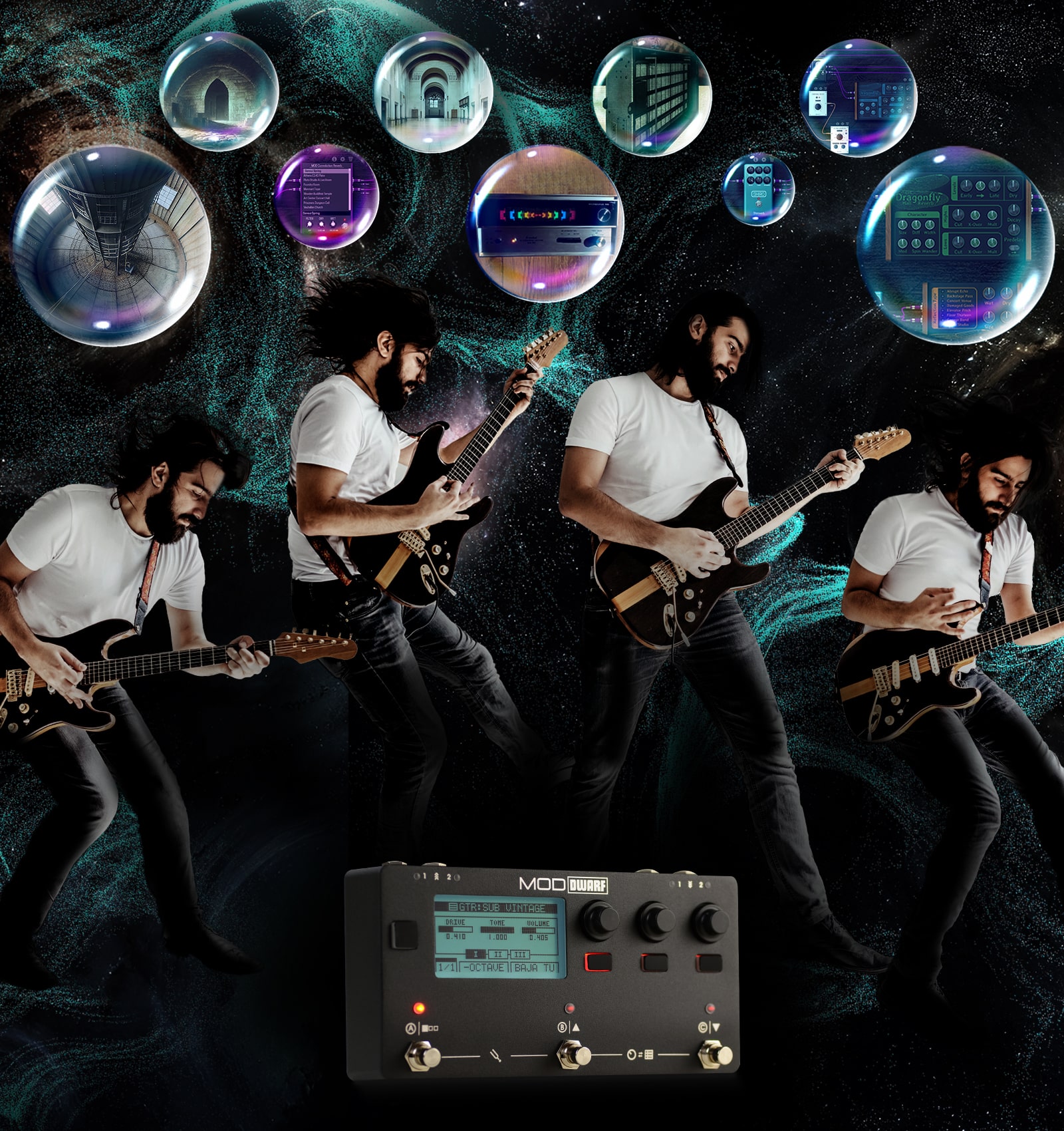 A UNIVERSE OF REVERBS AT YOUR FEET
THE POWERFUL SOUNDS OF SYNTHS, DIRECTLY FROM YOUR FRETBOARD
YOUR RIG IS ABOUT TO GET A WHOLE LOT SMARTER
ONE POWERFUL PEDAL
The MOD Dwarf is an expandable effects pedal that gives you access to countless rigs and processing options in a compact and durable format that's ready for the road.
Built to fit into your rig
Craft tones in the studio and easily bring them on stage. An infinite combination of pedals, processing options and tonal possibilities, accessible anywhere.
An elegantly simple interface
Build pedalboards, tweak effects, and download additional processing plug-ins straight from your computer via USB.
Powerful processing
Stereo inputs and outputs and an onboard 1.3 GHz Quad Core ARM processor give you an entire studio worth of creative possibilities in a single pedal.
FULL OF POSSIBILITIES
An enormous, ever-expanding collection of plug-ins to continually evolve your rig without buying new hardware..
Much more than just presets
Regular new plug-in releases allow you to continuously explore new sounds and setups and save them as entire pedalboards.
Intuitive and flexible
Build and share your pedalboards with our browser-based interface to explore sonic options without navigating through menus or a tiny touchscreen.
An open system for processing innovation
Our OS supports 3rd party plug-in development from companies like ReMasterMedia, K-Devices, Forward Audio, Shiro, VeJa and many more.
A GLOBAL COMMUNITY
Join the MOD community to share pedalboards, plug-ins, and presets, while learning from guitarists all over the world.
Thousands of other players
Since 2013, players have been depending on MOD effects and each other to create a vast network of ideas, information and setups.
Hundreds of pedalboards
Trying to get that specific tone? You're not the only one! Other MOD players are constantly sharing their pedalboard setups with the community to help you get tones faster and learn from the masters.
A supportive and active forum
New to effects, or looking to go deep on the differences between vintage reverb sounds? Join the MOD forum and meet people from around the world who share your passion for playing and great sounds.