MOD Duo X
A modular universe at your fingertips
MULTI FX • VIRTUAL INSTRUMENTS • MIDI TOOLS • CV UTILITIES
A new sonic world inside
A standalone, cutting-edge audio processor with multiple connections and extensive actuators. Designed to offer maximum versatility, control, and audio quality to performing musicians and music producers.
---
"It's so straightforward to use and the quality of the effects, as well as the box, is at the highest standard."

— Francesca Lombardo
---
Discover a new world of possibilities
With two independent audio channels, plug in any instrument or piece of gear you want. Split, join, feedback and rearrange your signal freely. Discover an endless array of effects, virtual instruments and MIDI utilities.
Take control over your music setup
Our device is equipped with ten knobs and six push buttons fully assignable to any parameter. Its Pagination System allows for different control assignments at one simple touch. The unique Instant Recall function will take you back and forth to your favorite moments of your performance instantly, at any given moment of your set.
Shape it for every scenario
The Duo X is a flexible standalone device inside an ultra-resistant monolithic enclosure. Define your very own "plug & play" presets to fit all your studio and live applications using User Profiles. Expand your device to maximum connectivity with MIDI Learn, MIDI Slave Sync or by using it as a MIDI hub for multiple controllers at the same time. Still want more flexibility? Get that analog feel thanks to internal CV support.
Expand your Plugin Library
Discover the MOD Plugin Library, with over 300 free plugins available and continuous releases of both classic and innovative effects. Load your own MAX/MSP effects and LV2 units to use directly on your device.
Save, upload and share your patches online for instant access, wherever you are. Welcome to an open world of music-making.
---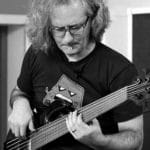 "Without exaggeration, I can say that MOD Devices pedals have revolutionised how I make music."

— Steve Lawson
---
Technical Specifications
Audio:
Independent audio I/O (stereo or dual mono) with a pre-amp per channel and a master volume control
Headphone out with dedicated volume control
Configurable TRS input – 2 x CV / Expression pedal
Configurable TRS output – 2 x CV / Headphone
Cirrus Logic low noise audio AD/DA converter
Relay-based True-Bypass
Control and monitoring:
2 big graphical displays (readable in sunlight and optimized for live use)
2 rotary encoders, 8 potentiometers and 4 push-buttons, all fully-assignable
Controller pagination system
2 instant "snapshot" push-buttons
4 LED audio meters
Digital:
Hexa-core 64 bit ARM CPU
Classic MIDI I/O
USB-host port for connecting MIDI devices, peripherals and Bluetooth (more ports available with a USB hub)
USB-device port for computer connection
Control Chain port for MOD peripherals